The Pirate Show is available for Big Shows and Small ones !!!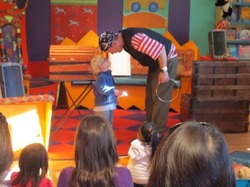 Discover the roar of laughter when Captain Robbie Bones shows up with a chest full of Magic and Juggling Apparatus. See how quickly children and adults become shipmates of this must have party entertainer. Captain Robbie Bones quickly takes full charge of your gathering and educates them on how to speak pirate and laugh like a rogue!
The show is Pirate magic juggling show that will have you laughing all the way to Davey Jones Locker. Whether it is a Birthday Party or a larger gathering the Captain will capture their attention and make them Laugh Out loud or they will have to walk the blank. If you are not Happy with this Show I will give you a full refund. I dare ya not to laugh. I double dog dare ya!

The Pirate Show has been performing at libraries all across Massachusetts . It is good for all
ages and everyone one will be entertained by either Magic & Juggling or the stand up verbal comedy of the
Captain himself. All shows are family friendly. The Captain is also available for walk around events, Master of
Ceremonies and will perform weddings. As you need to do is ask.
---