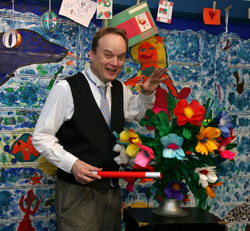 The Awesome Robb Magic Show is Fun for the whole family.
How wonderful to have to be out with the family and watch a very funny guy perform a very funny magic show.

The show is 50 minutes long and will hold the attention of 4 years old and up. But if younger brothers and sister come along the more the merrier.
Robb uses a lot of audience participation and his quick wit will have every laughing out loud. Fast and Fun this show will have every ones attention and wanting more. 15 different tricks from the Hilarious Soda Bottle of Doom to the Underwear Cannon. This show is a crowd pleaser.

---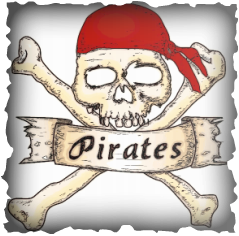 Captain Robbie Bones Pirate Magic Show will sail into your library with a treasure chest full of magic and a trunk filled with laughter. This absurd Pirate will have everyone's attention the minute he is on deck.

This 50 minute pirate themed magic show is a fan favorite of Awesome Robb's. There is everything from juggling Cannon balls to a snake in a basket that performs magic tricks. This pirate needs lots of help to get through his show , so there is lots of audience participation.

Please invite everyone to dress like a Pirate for the Show !!

---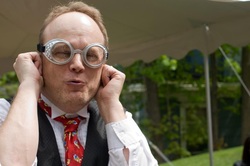 Super Hero Show- Awesome Robb becomes Captain Awesome for this one of a kind performance. Captain Awesome will show off his super powers by juggling Clubs, Balls and Rings ! He will test his mental Powers by Reading someones Mind ! He will perform other amazing feats of Super Human Magic!
A fun show that will entertain your audience.

Please tell everyone to come dressed as their favorite
Super Hero for the show!!


---